Join us for the best summer of your life!
Registration for returning families - January 29th at 10:00am.
Registration for new families - February 5th at 10:00am.
Summertime should be a wonderful time for kids. We've planned eight great weeks of camp for the boys and girls in your life that will make their summer days the greatest days of the year. It's a fun, safe place for kids. Here's what we've planned!
There are eight weeks of day camp centered around the beautiful wooded campus of Shades Mountain Community Church in Bluff Park, Alabama. Camp is from 9:00-4:00 each day for grades K5-8th and 9:00-1:00 for ages 3-4, and we also have an early and late program for grades K5-8th (see details under the early/late show). The facilities are great, just right for an awesome time all summer long. You'll love it here. 
For the 2024 camp year, our camp is for campers entering grades K3-8th, and they enjoy learning a lot as they have a great time.  They go home feeling that they've spent the day with good friends who really care about them as individuals as well as an important part of the group. It's just the thing for kids enjoying their first camp experience, as well as for "seasoned pros" who have previously been to camp. We're planning everything carefully to make each week great. We expect most weeks to fill up, so plan on selecting the weeks at the time of registration so you won't be disappointed by a full camp.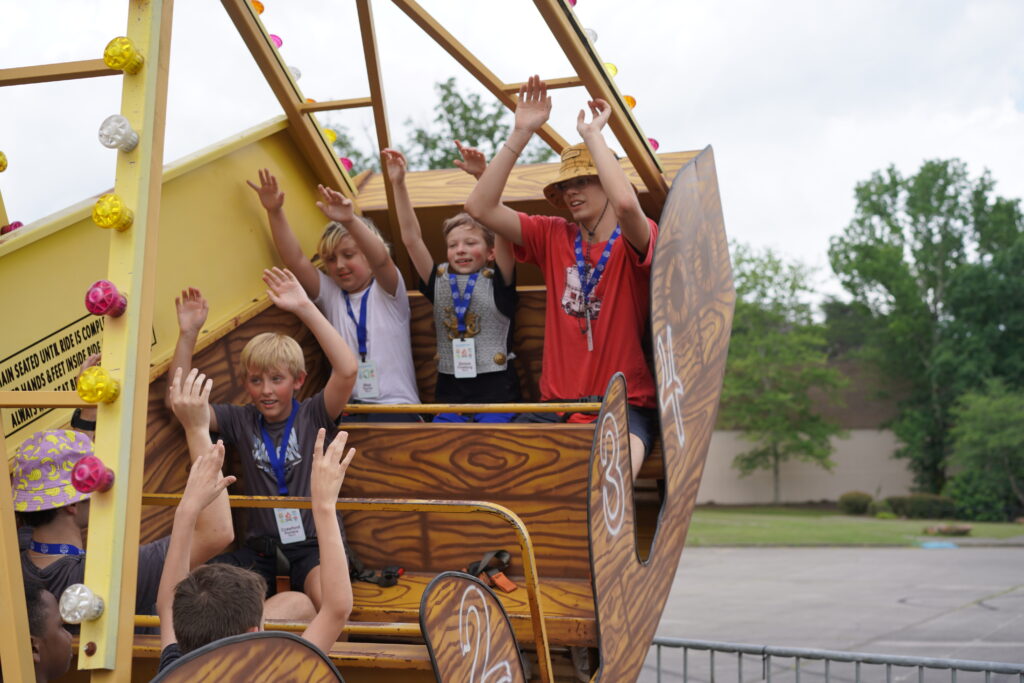 It's the people at camp who make those memories. Parents tell us our staff makes their kids feel loved and important. We work to help campers build good relationships with adults and other kids. Camp is like a big family whose members encourage and strengthen each other. We'll do what it takes to make sure your child "fits in" and feels at home with the other campers.
Just wait until you see what we've planned for your kids. We'll make sure your child has a safe and fun time each day at camp!
Once you register, we'll send you a complete Camp Information Packet in May with all of the details you'll need to know before camp begins. Also, look at the "important documents" section for the latest information. Camp is more than a vacation; it's the best summer of your life! Parents tell us their kids can't wait. Weeks fill up fast, so be ready for registration day!
Attendance at Camp Adventure is open to all children regardless of race, color, religion or ethnic background. Please remember that Camp Adventure is a Christian camp that teaches Biblical principles to our campers.
Voted "Best Camp" by the readers of Birmingham Magazine
7 Best Alabama Summer Camps 2021
Listed as one of the "Alabama's 7 Best Summer Camps"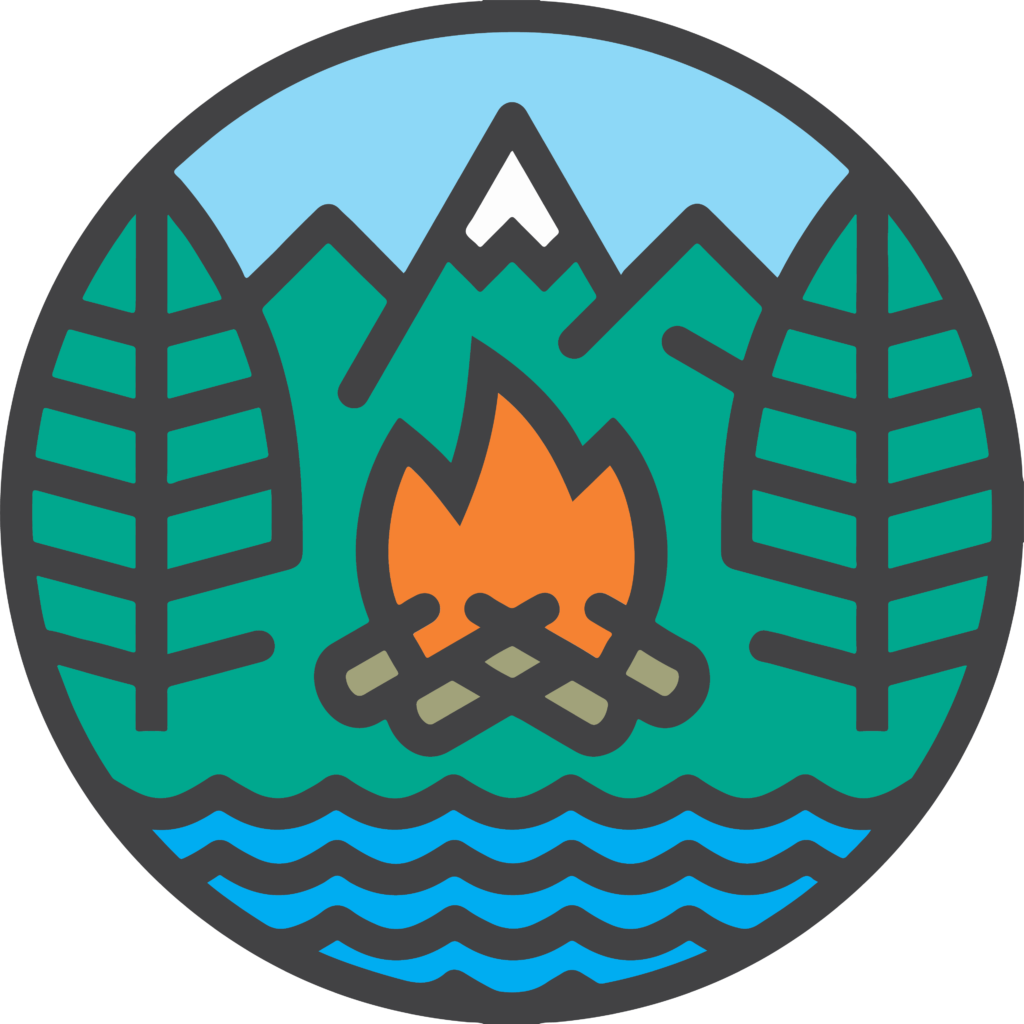 This camp is designed with our younger campers in mind (ages 3-entering 1st grade in the fall of 2024) and will provide all the fun and excitement of our regular camp, but in an environment that is just for them. They'll have all of the fun of each of our themed weeks but they'll have a camp rally that's all their own, waterslides just their size and counselors who love to get down on their level and play. We think your littlest camper will love what we've got planned.
Ages 3-4: Hours are 9-1. Carpool begins at 8:45 and runs until 1:15. Campers must be three years old by May 1st to participate and must be potty-trained. 
K5-1st: Hours are from 9-4 with the options for early (7:15-8:45) and late care (4:15-5:45). 
Get ready for the best summer of your life!
Registration Fee (per camper)

$35

This is a one time fee. This also includes a backpack in your camper's team color that they can use to take to camp each day.

A Week of Camp Adventure & Junior Adventure (ages K5-8th Grade)

$195

This cost is for both Day Camp (2nd-8th grade) and Jr. Adventure (K5-1st grade. *see special price below for ages 3-4). Regular hours included are 9:00am-4:00pm.

A Day of Camp Adventure & Jr. Adventure (ages K5-8th Grade)

$60

A Week of Jr. Adventure (ages 3-4)

$135

Hours for Jr. Adventure campers age 3 and 4 are 9:00am-1:00pm.

A Day of Jr. Adventure (ages 3-4)

$42

Early & Late Punch Card (ages K5-8th Grade)

$30

Each punch card is good for any 5 Early Shows (7:15am-9:00am) or Late Shows (4:00pm-5:45pm). If you do not have an Early or Late Show pass, the cost is $7 per session, per child.

This pass is good for any and all Early or Late Shows for the entire summer! If your camper plans to be at camp each week for early and late care, this pass will save you $75 for the summer! Each All Access Pass is good for one individual camper.
You may bring your snack and/or lunch each day or purchase it at camp. In order to buy lunch or snacks, you need to buy a food plan. You will receive a lunch menu in your registration packet a few weeks prior to the start of camp. The snacks available are fruit, freshly popped popcorn, crackers, muffins, fruit, and chips. Our drinks are a variety of juices, water bottles, and Gatorade. Candy and sodas are also sold on Fridays. Jr. Adventure snacks and lunches are available for purchase. Please note that Jr. Adventure food options are geared for their age group.
Your choice of one entree (hamburger, hot dog, chicken nuggets, pizza), pudding or jello, chips, and a water bottle.

Snack plans include one food item and one drink each day.

Weekly Double Snack Plan

$20

For campers who need a little more food for the day, we offer a double snack plan that includes two food items and two drinks. For campers who stay for late show, they may also eat their extra snack during late show, but the snack shop will not be open for purchasing during that time.

Daily Double Snack Plan

$5
Ladies and Gentlemen! Boys and Girls! Children of all ages! The circus has arrived. Come under the big top for a week of excitement and fun. Fill up on popcorn and cotton candy as you and your friends enjoy all the fun games at our exciting midway. We'll be turning camp into an exciting carnival, and you'll want to be at the front of the line. So get your ticket and come join the fun. (We will not have carnival rides this year due to significantly increasing costs, but we can assure you that we will have just as much fun!)

We'll turn our camp into a real TV studio with game shows you'll get to be a part of. We'll have our "Iron Chef" competition, or try your luck in "Deal or No Deal." All of this leads up to our 18th annual "Straight Street Idol" competition where the winning contestants from every team will get a chance to take a ride in a limo, walk the red carpet in front of camp and perform in front over 400 screaming fans.

Lights…camera…action! Our 12th annual Studio Camp is one of our most popular weeks. Kids on each team get to write and star in their very own movie. Then we will premier all of our films at our Straight Street Film Festival. We'll be giving our awards for Best Picture, Best Actor and Actress. You could be the toast of the town with your name in lights. So come and join us. We're ready for your close up.

A long time ago in a camp far, far away young campers were training to become Jedi knights. This week you'll see if you are strong with the force as you go through Jedi training. Build your own lightsaber, join the rebellion, and bring balance to the force. But beware, Darth Vader has sent his Stormtroopers to put an end to the Jedi. We need your help!

Holiday Camp

July 1-3 (3 days)

[This week is only 3 days for $165 ($120 for Jr. Adventure)] It's time to celebrate everyone's favorite days! This week of camp might be short but we're going to cram it full of holiday fun. We'll have a birthday party for everyone, sing Christmas carols, dress up in costumes like Halloween and you never know what special guests will stop by. It's going to be three days packed with all the fun that comes throughout the year. Please note: Holiday Camp is ONLY 3 days (Monday-Wednesday) We will NOT have camp on Thursday, July 4th and Friday, July 5th.

You've played the games; now it's time to live them! Video games come to life as you and your friends get in the system and play your way through all of your favorite video games. We'll be launching Angry Birds, taking on your friends in Super Smash Brothers and lots more. After a full week of gaming we'll end the week with our very own version of real life Mario Kart. Don't spin out on a banana peel, or it'll be "Game Over."

If you like Minecraft, LEGO's or just like to be creative then this week is for you. We have thousands of LEGOs, Minecraft on the game systems in the Bus Stop, and more. You will even be able to enter our LEGO contest where you'll get to compete for the title of "Master Builder." Boys and girls alike will love all of the fun we have planned.

Get ready for a world of color and creativity. This week, we let our imaginations soar as we create works of art of all sizes. This is more than just crafts, it's a whole week dedicated to creating the unimaginable. We'll even become the artwork ourselves with our very own Color War! Get ready to dream big in our wildest week of camp.